Etihad Raffle Draw 2019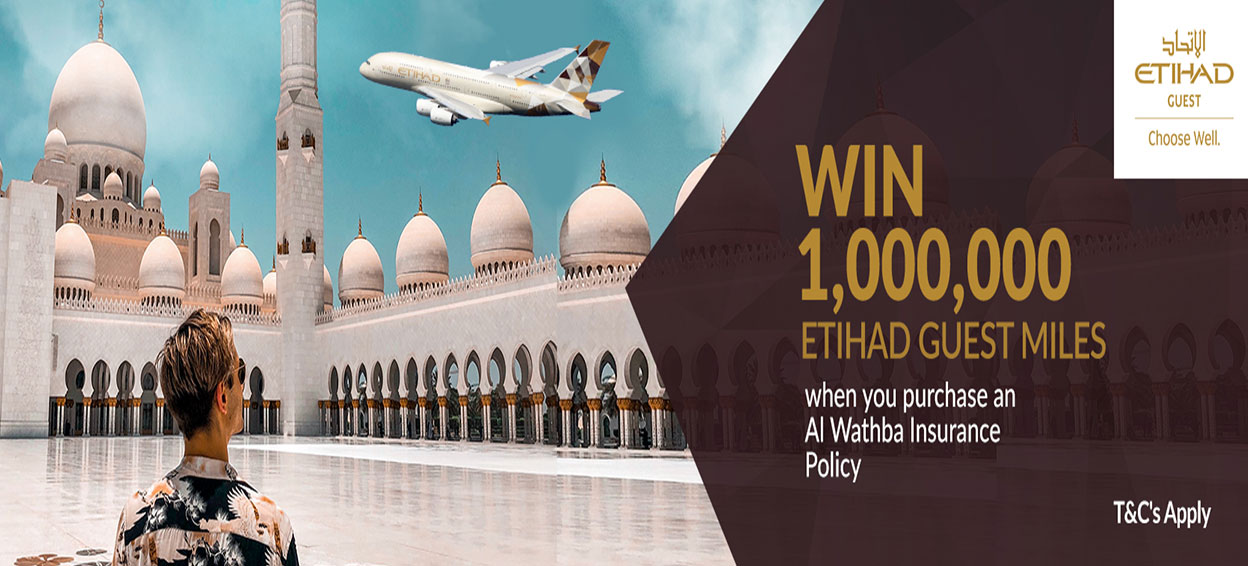 Win 1 Million Etihad Guest Miles with Al Wathba Insurance!
Purchase an AWNIC Insurance Policy and get the chance to be 1 of 10 winners to receive 1 Million Etihad Guest Miles and continue to earn 1 Etihad Guest Mile with every 2 Dirhams spent at AWNIC.  You can also redeem your Etihad Guest Miles towards an AWNIC Insurance Policy from the Etihad Guest Reward Shop. 
Your AWNIC Policy is just a mile away!
!اربح مليون ميل من أميال ضيف الاتحاد مع شركة الوثبة للتأمبن
احصل على فرصة لتكون أحد عشرة رابحين لربح 1 مليون ميل من أميال ضيف الإتحاد عند تأمينك مع شركة الوثبة للتأمين, بالإضافة الى حصولك على  1 ميل مقابل كل 2 درهم تدفعها للوثبة للتأمين.
استخدم أميال ضيف الاتحاد للحصول على قسائم من متجر مكافأت أميال ضيف الاتحاد التي بالإمكان استخدامها للحصول على وثيقة تأمين من شركة الوثبة للتأمين. 


وثيقة تأمينك من شركة الوثبة للتأمين تبعد ميل!
Terms and conditions:
1.     All personal lines policyholders automatically enter the draw if they make a purchase in between 28 October 2019 untill 10 December 2019.
2.     Policyholders enter the draw at the time of purchase
3.     Individuals are still applicable to redeem (1 Mile for AED 2) at the time of purchase
4.     Any payments towards Non- Premium element, for example, EVG Fees, will NOT get Etihad Miles
5.     Applicable to policies bought from any AWNIC retail branch, online through web, customer care center, and the mobile app.
6.     Total of TEN winners will be chosen at the end of the promotion period by the raffle draw
7.     Each winner will get 100,000 Miles as a result of the Raffle Draw.
8.     Winners are obliged to travel to AWNIC Head office to receive their certificates.
9.     Winning customers will have to make their own arrangement of travel to AWNIC Head Office.
10.  Winners are obliged to agree to use their names at least for promotional purposes.
11.  The purchase must be in the name of the Etihad Guest member (non-transferable).
12.  This offer is not valid in conjunction with any other loyalty program or any other discounted schemes except for AWNIC's own loyalty program "Privilege Card".
13.  This offer is not valid for policies generated by intermediaries.
14.  This offer is valid only on transactions paid with cash or by credit / debit card.